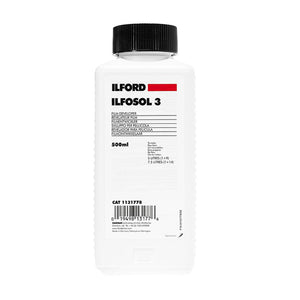 Kamerastockholm
Ilford Ilfosol 3 500ml
Regular price
209 kr
0 kr
Unit price
per
Tax included.
Liquid concentrate film developer

Fine grain and optical sharpness

Especially suitable for medium speed films such as FP4 Plus and Delta 100 Professional
ILFORD ILFOSOL 3 B&W developer is an improved blend of one-shot, liquid B&W developer - ILFOSOL S. The new developer is especially suited for use with medium and slow speed films such as PAN F PLUS, FP4 PLUS and DELTA 100 PROFESSIONAL where warranted a fine-grained and optimal sharpness at full film speed. It is supplied as a concentrate in economical 500ml bottles and is diluted (usually at a ratio of 1:9) for single use. For better economy, ILFOSOL 3 can also be used with many films with a higher dilution of 1:14. With the only disadvantage that you have to compromise a little in the image quality.
Equivalent to Kodak XTOL.
---