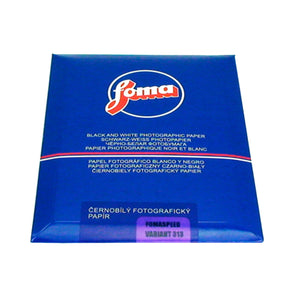 Kamerastockholm
Fomaspeed Variant 313 24x30cm /25-pack
Regular price
495 kr
0 kr
Unit price
per
| | |
| --- | --- |
| Size: | 24x30.5CM (9.45x12 INCH) |
| Sheets: | 25 |
| Surface: | Semi-Matte (RC) |
| Paper Grade: | Variable |
| Darkroom Safelight: | Red only |
| Image Tone: | Neutral tone |
| Base: | RC |
| This box contains: | 1.83 m2 (to help you calculate the chemistry) |
FOMA Fomaspeed multi-contrast RC photo paper, with neutral blacks and a high light sensitivity. Available in: Glossy, matt, or semi-matt.
Neutral-to-warm photo paper on an RC base. The Fomaspeed stands out above all because of its good tonal range in the highlight areas.
This makes the paper ideal for beginners or for working prints as well as portraits. Silver chlorobromide emulsion. Fomaspeed has developing agents incorporated in the emulsion, resulting in very short exposure and developing times.
A high-quality and easy-to-use all-round paper, which is equally suitable for tray and machine development.
Variable Contrast: 00-4.5
Red or dark red dark room safelight should be used. All other light colors can fog this paper! Please make a test if you are not sure.
---